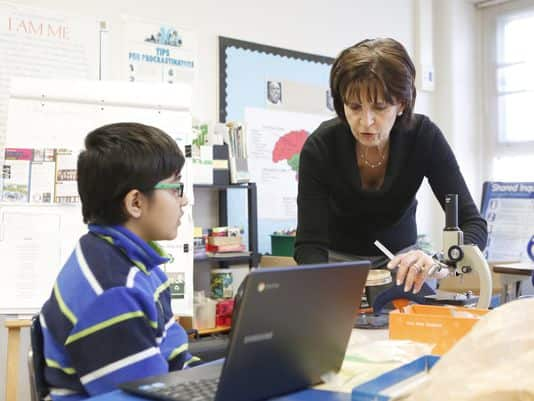 Suffern students seek grants to fund their Makerspace
The Tinkering and Innovation Lab at Viola Elementary School is still a relatively new addition, but could soon have some new robots thanks to the efforts of two students.
SUFFERN — There are so many empty Amazon boxes in Lynda Hammond's classroom lately you'd have to wonder if she's a shopaholic, but that's not the case.
The boxes were toted in by students at Viola Elementary School, eager to transform the containers into something new and exciting.
On Friday afternoon, a group 3rd, 4th and 5th graders spent their lunch and recess period stacking, taping, cutting and gluing the cardboard — the first steps to making what will eventually be student-created arcade games. Half-eaten pizza slices sat on desks, while students excitedly chatted about what they were making or offered each other suggestions on building.
The submissions are destined for entry in the Global Cardboard Challenge, which encourages children to use science, technology, engineering and math (STEM) skills to make the games using common household items like tape, balls, plastic cups and boxes. The students also plan to snap photos of their creations and send them to Amazon to show the company what came of its old boxes, said Hammond, the school's instructional facilitator.
Chelsea Calvin, a fourth grader, was busy duct taping two boxes together.
"We did a lot of planning on this. It's interesting to work on because it's a game you're creating yourself," he said.
Makerspaces and STEAM labs (an acronym which adds an 'A' for arts) are where students carry out hands-on projects based on numerous topics, such as weather, medicine, science, history, economics, or animals, for instance, and activities could include robotics, 3D printing, cardboard construction, coding, electronics and woodworking.
The idea behind such labs is that design challenges teach students how to solve problems and think creatively.
Within the Lower Hudson Valley, several schools in Putnam, Rockland and Westchester counties have added Makerspaces or STEAM areas. But faced with tightening budgets, teachers have begun seeking new ways to cover the cost of high-tech items, like 3D printers and robots. Some of the options have included grants through companies or PTA organizations, sponsorships from corporations, donations from the school community and crowdsourcing.
Read the entire Rockland Journal story at: https://goo.gl/Jk8A3h