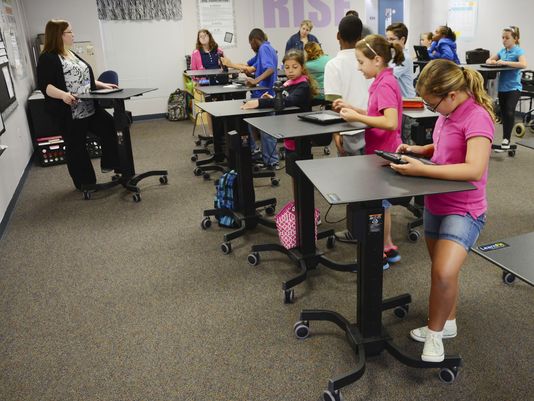 Schoolchildren Get Into Stand-up Act
STAND UP AND CHEER – Montebello Elementary's Jennifer Cancro and SMS's Beth Byrne Boehning . . .
Flashback Fall 2013 – Both RCSD teachers applied for & received REACH Grants for AlphaBetter Stand Up Desks.  The AlphaBetter Student desk allows students to stand at their desk while learning and utilize the attached swinging foot rest for balance. The AlphaBetter Student Desk promotes classroom focus, helps ADHD in classroom settings, improves handwriting, and expels excess energy. Studies have shown that moving increases academic abilities and moving can facilitate learning.
The following is an excerpt from an October 2015 article featured in USA Today…
By now, most adults have gotten the message that slumping in a desk chair all day long isn't very healthy. Over the last five years, standing desks have gone from an office oddity to a staple.
So it should come as no surprise that companies that make standing desks are now looking to get more students standing. Ergotron Inc. of St. Paul, for instance, has donated its standing desks to five classrooms across the country – hoping to spark more interest in their product.
It certainly worked that way in the Belle Terre Elementary School in Flagler County, Fla. Fourth graders and their teacher, Melissa Nelson-Irving, became huge standing-desk boosters after trying them out.
"When I first heard of it, I was wondering would it help me? Would I be tired?" said now-sixth grader Emma Kalcounos.
But it didn't take long for her to get excited about her standing desk. "It helped me get more focused," said Emma, a soccer buff who also loves math. Instead of being exhausting, standing most of the day "makes me more alert and ready for the next thing."
Emma also liked being able to adjust the desk to her height. The wheels made it easy for the kids to rearrange their desks into groups for projects, and different shapes when they were studying geometry.
Teacher Nelson-Irving, who has now moved up to fifth grade – along with the $500 apiece desks – said she'd experimented with a variety of approaches over the years to keep her students engaged and awake.
"Kids need to be up and moving," Nelson-Irving said. Rather than creating chaos, as some teachers fear, standing helped her students pay attention, she said. The ones who typically invented reasons to get up out of their seat – to go to the garbage can, pencil sharpener or bathroom – stopped needing excuses to move.
"My students are more engaged, alert, on task – much more so than when they're sitting in traditional desks and groups," Nelson-Irving said. "The freedom that these desks have given me in my classroom is just the best."
The scientific support for standing desks is still catching up to the anecdotal evidence.
Read the entire article online at USA Today…